I felt my lungs inflate with the onrush of scenery—air, mountains, trees, people. I thought, 'This is what it is to be happy.'

You can relax in the spacious bedroom of the Chocorua Room during your stay. The many period windows of this corner room overlook Main Street and the side garden making this room airy and bright. Two wingback chairs are the perfect place to curl up with a book or to sit and chat.
The private bathroom, with a large shower, is located directly across the hallway from your room. Comfy white robes are provided for your convenience.
    2 Guests
Queen-sized Bed
Separate Private Bathroom

Breakfast
You will enjoy a full breakfast made just for you every morning. Your breakfast will be made using organic and local produce, even the coffee is roasted locally. If you have any allergies or dietary restrictions, your breakfast can be adjusted to suit your needs with advance notice.
Coffee, Tea, Snacks
Throughout your stay, a Nespresso machine, hot water kettle, tea and hot chocolate is available for you. There is also a selection of snacks in case you get the munchies during your stay. The water from the sink is one of the sources used by Poland Springs so don't forget your reusable water bottle!
A/C & Space Heaters
Your comfort is important so all bedrooms are equipped with a/c units in the summer and space heaters in the winter to allow you to be sure your room is just the right temperature.
TV
Your room has its own TV that is set up with Disney+ and other streaming channels.
Bathroom
For your convenience, soap dispensers with shampoo, conditioner, and body wash are located in the shower. Hand soap and body lotion are at the sink for your use. All products are Plaine Products which are non-toxic, vegan, and cruelty-free personal care products shipped in refillable aluminum bottles.
To reduce what you have to pack, a hairdryer can be found in the bathroom.
White fluffy towels are provided so you can wrap yourself in luxury.
WiFi
Free wifi is available for your use throughout the property.
Guest Living Room
You have access to the guest living room where you can relax on the couches to watch TV or a movie on the 55" television.
A large selection of games and books are also available for your use during your stay.
Looking to have a cozy night in? We will be happy to start a fire in the fireplace for you, just let us know.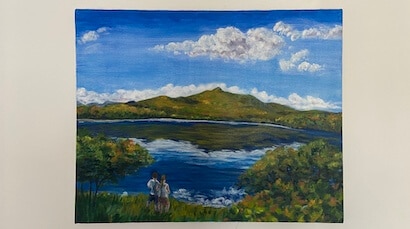 The Chocorua Room is named after Mount Chocorua, one of Mike and Steph's favorite mountains. The painting shown was given to Mike and Steph as a wedding gift from a family friend.
Located in New Hampshire, south of Conway, and part of the White Mountains, there are many hiking trails to the peak, though the Piper Trail, Champney Falls Trail and the Liberty Trail are the most popular.




Mike, Steph, and Gwen are revisiting all our favorite places and exploring new ones to provide you with the best local attractions. We will also keep you updated on everything going on at The White Gables Inn.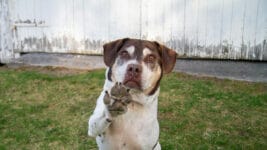 Questions about the White Gables Inn?