At The White Gables Inn, we make a big effort to use green, sustainable and local products whenever possible. As your safety is a top priority, not all products can meet these goals but we do our best.
Below is a list of just some of the products that we provide for your use and use throughout the Inn.
In the Rooms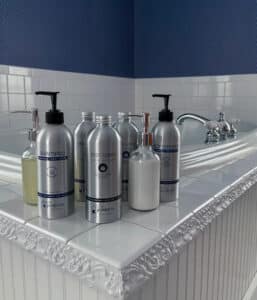 Plaine Products: All of the guest bathrooms are stocked with Plaine Products in refillable containers. We receive the shampoo, conditioner, body and hand wash, and body lotion in aluminum bottles and use them to top up everything before you arrive. Once the bottles are empty we ship them back to Plaine Products so they can clean them to be reused.  The actual products are good for the planet and you. They are made using only natural ingredients and are free of sulfates, parabens, phthalates, silicone, and palm oil. If you want to take some home with you, let us know, we have bottles available for purchase.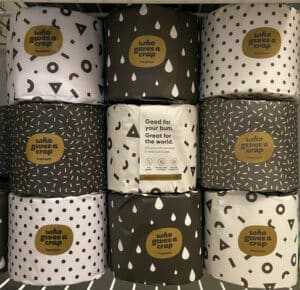 Who Gives a Crap: In your room, you will find that the 3-ply toilet paper is made from 100% forest friendly bamboo. In addition to having an environmentally friendly product, 50% of their profits are donated to help build toilets for those in need.  If you are lucky enough to change a roll during your stay, be sure to read the wrapper for a little toilet humor.
Recycling: There is a blue bin in all of the bedrooms for you to place paper and plastic trash for recycling.
Spare amenities
Bamboo toothbrushes
Food
Nespresso: In the breakfast room, there is a Nespresso machine available for your use.  The capsules are made out of aluminum and are collected and returned to Nespresso for recycling.
Wicked Joe: The coffee served with your breakfast is fair-trade and organic, roasted in Topsham, Maine. The brew is Maine State Parks Blend and a portion of the proceeds are used to support the locate state parks.
Eggs: We always purchase Free Range or Cage Free eggs or eggs provided by our neighbor's chickens
Local Honey
Local Maple Syrup
Common Areas
Hand Sanitizer: The hand sanitizer provided for your use is produced by Split Rock Distilling, located in Newcastle, Maine.
Cleaning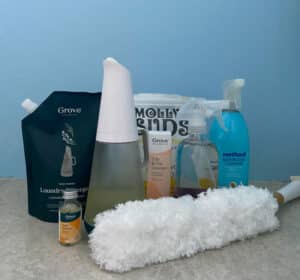 Grove Co. Laundry Detergent: Grove Co. is a certified B Corp company and the detergent used at The White Gables Inn is EPA Safer Choice Program.
Wool Dryer Balls: We do not use dryer sheets but instead use wool dryer balls to speed the drying cycle.
Fillaree: We use the Clean Plate Dish Soap made by Fillaree, a small company in Durham, NC that provides a zero-waste refill program.
Method Home Products: Method is a certified Cradle to Cradle company and their products are manufactured in the USA.
Grove Co. Products: Grove Co. is a certified B Corp company and the products they produce are non-toxic, sustainable, and cruelty-free. The company is 100% plastic neutral and have a goal to be plastic-free by 2025.
Other Things We Love
When given the option we also chose certified B corporations, who are legally required to consider the impact of their decisions on their workers, customers, suppliers, community, and the environment.
Stasher Bags: Reuseable silicone food storage bags that are dishwasher safe.