Pixar's Up is a modern cinematic masterpiece. If you haven't seen it, don't worry, not only will I not spoil it for you here but at the end of this blog, I will also give you a way to watch this great movie for free! That's right, free! Starring in the movie Up is the character, Carl Fredricksen. Carl is the epitome of a grumpy old man. He has no friends and never smiles.
Leaving out a lot of details, Up centers around Carl's journey to Paradise Falls; a towering waterfall that drops off a picturesque cliff. So you're probably asking, "Mike why are you talking about Up? What's the point?" The point is that even the grumpiest person I could think of loves a waterfall. Everyone loves a majestic waterfall and nearby, we have a great one in Arethusa Falls. Below I will outline all the reasons you will love it, as well as a number of pro tips to make your visit even better.
Why you will love Arethusa Falls
The 140 foot waterfall is towering, majestic, serene…I'm going to stop here. I could insert another 100 superlatives but it won't do it justice. Here are some pictures which also don't compare to seeing it person but will give you a better idea than my limited vocabulary.
Arethusa Falls is the main attraction, but there are many other water features on the hike to/from Arethusa Falls that add to the experience. After the descent down Arethusa, Bemis Brooks continues to cascade practically back to the parking lot. The best views are found along the Bemis Brooks Trail and include smaller falls and wading pools that can be enjoyed during hot summer days.
The hike to the falls and back is a relatively easy one. Round trip the hike is about 2.6 miles. The Arethusa Falls Trail is very well maintained. You will experience some changes in elevation during the hike but nothing too daunting. Case in point, last year Steph and I did the hike with family members ranging from 4 years in age to 69 years in age and everyone made the hike look easy. Our daughter was the 4-year-old and we have already gone back this year based on her insistence. The identity of the 69-year-old has been withheld due to concerns with my health and safety if I was to broadcast her age.
If you read the above and thought "This is too easy. I need more miles and more terrain", you are in luck. The hike can easily be extended or coupled with other hikes.  The Frankenstein Cliff and Arethusa Falls trail can be combined into a 4.9 mile loop. There are also many neighboring hikes that are a short drive away (for example Mount Willard, a likely future blog entry) that can be accomplished in the same day for the more hardcore hikers.
Pro Tips:
Parking: When you turn off Route 302 into the Arethusa Falls area you will immediately see a parking lot on your right. THIS IS NOT THE ONLY PARKING. Continue up the small road towards the buildings/train tracks and you will find a much smaller parking area. Parking in this lot can fill up quickly so you may not have a choice but to park in the larger lot, but you may save yourself a lot of extra walking if you check it out first.
If you want pictures of Arethusa Falls without a lot of people in your view, going early on a weekday is your best bet. The last 2 times we went were both on a Friday and we got to the parking lot between 8:30 and 9:00 in the morning. One of those trips we were the first people there (by minutes) and the other trip we were the 2nd group there.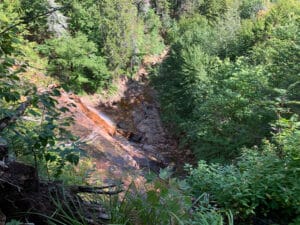 You can actually hike to the top of the falls. To the left of Arethusa Falls, among the trees is a very steep trail to the top of the falls. There are better views within Crawford Notch but this provides a different perspective and I end up doing it nearly every time I go. Please note that in 2020 a hiker did fall from the top of the falls and died. Just remember to exercise caution, stay away from the edge, and if you feel you need to cross the stream hike very far back (at least 300 feet) where the water is much slower, flatter, and safer.
I highly recommend doing the Bemis Brook Trail which leaves and rejoins the Arethusa Falls trail. It only adds a couple tenths of a mile but you get to walk along Bemis Brook and see the many cool smaller water features such as Coliseum Falls. Please note that where the Bemis Brook Trail rejoins the Arethusa Falls Trail is very steep. On our last two trips to Arethusa we stayed on the Arethusa Falls Trail on the way out and took the detour along the Bemis Brook Trail on the way back. This allowed us to go down the steep part as opposed to up. With a 4 year old as part of the expedition we went slow and did a lot of hand holding so that "daddy wouldn't slip and slide down the hill" but made it just fine.
Now if you have read this far I bet you are 1) Planning a visit to Arethusa Falls and 2) Wishing you were watching Up and wondering how you could watch this for free. Well, this is where it gets really good. If part of your trip to Arethusa Falls includes a reservation at The White Gables Inn, we will give you free access to Disney+ for your entire stay and you can stream this great movie in your room or in the guest living room and I can't think of anyone who wouldn't love that deal…well maybe Carl Fredricksen.