What's easy to find and beautiful year-round?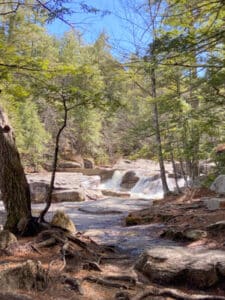 If you said "The White Gables Inn of course", well done! You must have read some of my other blog entries.
However, that was not what I had in mind so let's try again.
What lasts less than 2 miles and glistens in the sun?
If you said "Me on a run", you're my kind of people and we should hang out.
However, that's not it either. The real answer is one my favorite local attractions, Diana's Bath in North Conway, New Hampshire.
Diana's Bath is part of Lucy Brook and is a series of cascading waterfalls and pools. This is such a favorite in the Davis household that we go about 6 times a year. "But what beyond the stunning scenery makes this so special?" you ask. Great question. Let me explain.
Accessibility: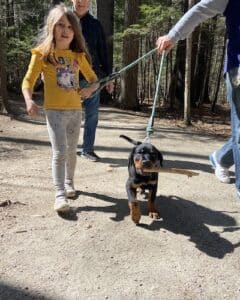 The walk from the parking lot to the base of the falls is about 0.6 miles on a well maintained, packed dirt trail, with minimal terrain. Nearly anyone can do it. On top of that, it is only 14 miles from The White Gables Inn. Due to both the short hike and drive, this is something that can easily be added into an existing trip. There are also many nearby activities that you could easily pair with a trip to Diana's Bath to make it last a morning, an afternoon, or a whole day (shopping in North Conway, hiking/visiting Cathedral Ledge, etc).
The Adventure:
Once you get there, it's like a choose your own adventure book. If you're up for more of a hike and can handle a little more terrain than the dirt path to the falls, you can climb the falls. The most scenic part goes on for a couple tenths of a mile but if you enjoy the calmer part of the brook, you can continue to hike along it for miles. Both sides of the brook contain trails that work their way up the falls. Additionally, you can just climb the up the large rocks in the middle of the brook/falls. You can cross back and forth at many points (except when there is exceptionally high water like in the early spring). There are seemingly endless hiking choices. Not to mention great spots to picnic (we do this frequently and could recommend places to get food on your way), take pictures, or cool off on a hot day.
Year round fun:
Another reason why Diana's bath is a family favorite is that every season has something different to offer. The Spring brings high water making each and every water feature even more spectacular. The Summer gives you a great space to cool off as you can wade in many natural forming pools and stand under the falls. Autumn gives Diana's bath a beautiful fall foliage backdrop. The winter…well…we've never gone in the winter so…the winter thins out the crowd letting you better connect with nature…I'm guessing.
So Diana's Bath is perfect you say?
No, like me it has one flaw that makes perfection unattainable. In my case, it is being far too modest; humble some say. For Diana's Bath, it is the parking. The undersized lot fills up fast, particularly on weekends. Getting there early, late, or during the week will likely prevent having to wait for a spot but even if you have to wait, you'll find that it's well worth it.