I love sleep because it's like a time machine to breakfast.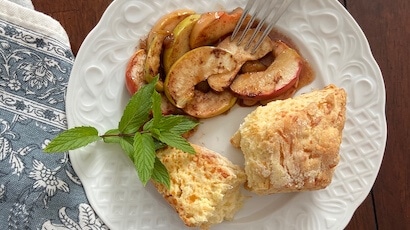 We serve a full breakfast every morning and are committed to using organic and local produce whenever possible. Breakfast is served as a two-course meal. Enjoy a fresh-baked bakery item and fruit with your freshly brewed coffee and tea while the main plate is cooked just for you.
Some of the items you may enjoy during your stay: 
– Scones
– Oatmeal
– Muffins
– Doughnuts
– Eggs Benedict
– Pancakes
– French Toast
– Omelets
With advance notice, we're happy to accommodate special dietary needs.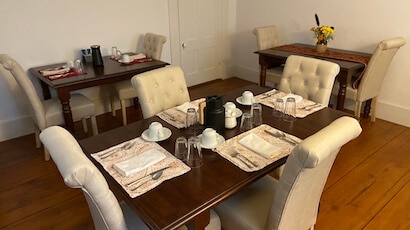 The light and airy Breakfast Room is located on the first floor and overlooks Main Street and the side garden. Individual tables are available so that you will have your own table on a typical morning.
The room is also available for your use throughout the day and evening. You are welcome to bring your lunch or dinner back to the Inn to enjoy.
A selection of complimentary snacks, as well as a Nespresso machine and electric kettle for single-serve coffee and tea, is available for your enjoyment.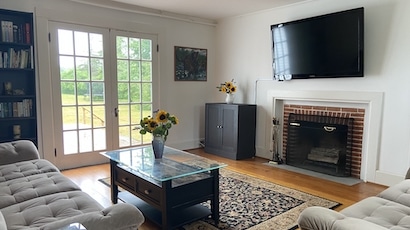 The guest living room is the perfect place to enjoy an evening after a fun day with old and new friends.
There is a 55″ television on which you can watch movies both streamed and from our large DVD collection.
If you are looking for some time away from devices there are a number of board games as well as a few books for your enjoyment. Need an opponent for Cribbage or a board game? Let Steph or Mike know and we would be happy to play.
The large double doors let in a lot of light while providing views of the mountains and access to the deck.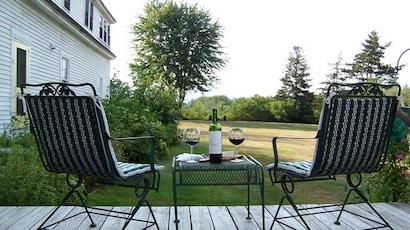 While you are here, you have access to the large deck and lawn. In the near future you will be able to take a walk through the woods, part of the original homestead property. 
The deck allows you to unwind while watching the sunsets coloring the views of Kearsarge North.  If you want to do more than just sit, bocce ball and cornhole are available for you to play.
Although not yet complete, we are in the process of creating a trail through the woods so that you can walk in the peaceful woods in the warmer months and access the snowmobile trails in the winter.
Does your weekend activity include equipment, such as skis and wet boots? There is a secure space in the barn just for your use for storing your gear.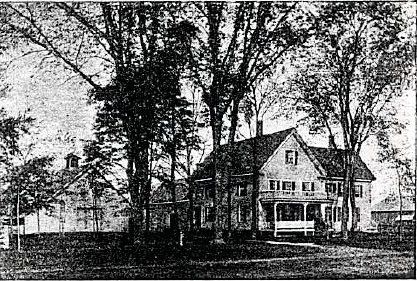 660 Main Street was built circa 1820 by Dr. Reuel Barrows, one of the founding members of the Fryeburg Temperance Union. The house was built on a granite foundation with the lumber milled on-site; the cellar still contains some of the original hand-hewn supporting beams. Also on site is the property's original 50′ x 50′ post and beam barn. Generations of families have put their imprint on the house, adding wings and frequently reconfiguring the interior. However, the house's exterior appearance has mostly remained unchanged since the 1890's.
Since the turn of the 20the century, the house has been the home and office to several of Fryeburg's doctors, the most recent being Dr. Dore, father of Fryeburg's current town librarian. For long-time residents of Fryeburg, The White Gables Inn is known as "Dr. Dore's house". Mike's Father and Grandfather were patients of Dr. Dore and most likely visited the house long ago.
The house was vacant for two years but retained a solid structure with a well preserved, but dated interior, under at least 7 layers of wallpaper. The property has been as lovingly and faithfully restored as possible. The Reuel Barrows house lives on with its horsehair plaster, pumpkin pine floors, and original fireplace. We think Dr. Barrows would approve the few changes, especially the new bathrooms.


The White Gables Inn
660 Main Street
Fryeburg, ME 04037
(207) 591-5157
The White Gables Inn is located on Route 302 as it runs through the heart of Fryeburg.
The White Gables Inn is 1 hour from Portland, 2.5 hours from Boston, 4 hours from Montreal, 5.5 hours from Quebec, and 7 hours from New York. Driving directions are below. When following GPS directions, please be aware seasonal road closures.
From Portland, Maine
Take ME-25 West out of Portland to ME-113 North.
Continue on ME-113 North for 30 miles.
Turn right on Main Street in Fryeburg at the traffic light.
The White Gables Inn is the fifth house on the left.

From Boston and New York
Take I-95 North to exit 4, on the left, in New Hampshire.
Merge onto NH-16 North and continue for 68 miles.
In Conway continue straight onto NH-113 East for 8 miles.
In Fryeburg go through the traffic light.
The White Gables Inn is the fifth house on the left.
From Montreal and Quebec
Cross the boarder into the United States at Derby Line, Vermont.
Continue on I-91 South for 79km and take exit 19 to merge onto I-93 South toward Littleton, New Hampshire.
Continue on I-93 South for 69km to exit 32 for NH-112 East-Kancamagus Hwy.
Turn left at NH-112 East and continue for 57km.
Turn left at NH-113 East-NH-16 East and continue for 14km.
The White Gables Inn is the fifth house past the traffic light on the left.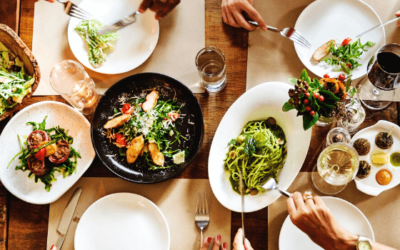 Fryeburg has several restaurants and bars, with takeout and dinning in options, all within a short walk or drive from The White Gables Inn.
read more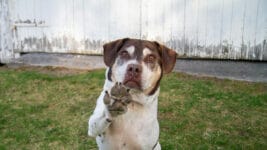 Questions about the White Gables Inn?