From skiing and snowmobiling, kayaking and canoeing, to theater arts, fine dining, local farms, and fall foliage, Fryeburg, located on the border of Maine and New Hampshire is an ideal place around which to plan your holiday. We are centrally located to take advantage of the quiet of traditional Maine, with easy access to the shops of North Conway. And, of course, we are just steps from Fryeburg Academy and the Fryeburg Fair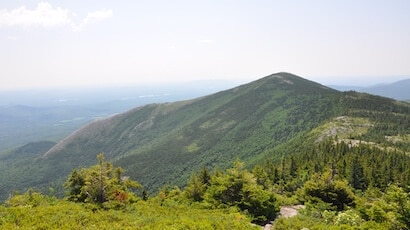 One of the real treats about living in the White Mountains is the ability to reach multiple challenging summer and winter trails less than 15 minutes from the front door. Fryeburg is situated on the intervale between the Green Hills, the eastern Flank of the White Mountains, and the Oxford Hills. We are minutes to multiple trails on Pleasant Mountain in Bridgton. Our bookshelves contain a number of great hiking guides for you to browse.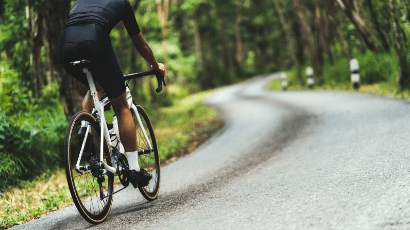 Fryeburg and the White Mountains are great areas for cycling. Every ride in the area passes through small country towns and local farms along the rolling hills of the intervale. Those billy goats among us can get some serious climbs in on some of the mountain roads. Traffic is generally light midweek even during peak summer seasons. Get your free cycling routes below, which are written to keep you off major routes in and out of Fryeburg as much as possible. However, check the cue sheet carefully. Some of these rides require travel on dirt roads. Finally, bike safely, and remember it's supposed to be fun.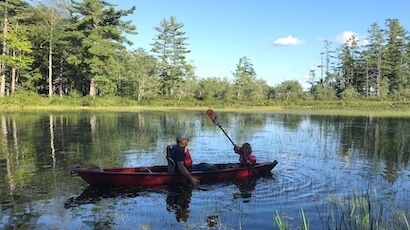 The Saco River is a beautiful, clear, meandering river that supports canoeing, kayaking, and tubing. With a host of outfitters within a short distance spending, a day canoeing near Fryeburg can be done easily.
Below are the distances between portages along the Saco River nearest The White Gables Inn. The two portages closest to us are Weston's Bridge and Swan's Falls, both a five-minute drive.
From 302 Bridge to Weston's Bridge = 10.1 miles
Weston's Bridge to Swan's Falls = 3.4 miles
Swan's Falls to Canal Bridge = 3.8 miles
Canal Bridge to Walker's Bridge = 7 miles
Walker's Bridge to Walker's Rip (falls) = 2.7 miles
Walker's Rip to Lovewell's Pond = 2 miles
Lovewell's Pond to Brownfield Bridge = 5.9 miles
Brownfield Bridge to Hiram Bridge = 13.8 miles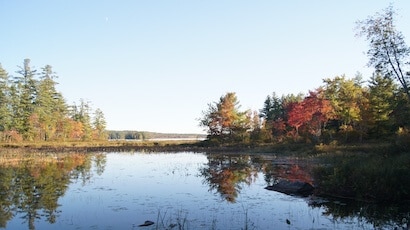 Foliage around Fryeburg peaks in Mid-September to Mid-October depending on temperatures and seasonal rain. The State of Maine maintains a foliage website with current conditions. The Foliage Report is generally updated starting in early September.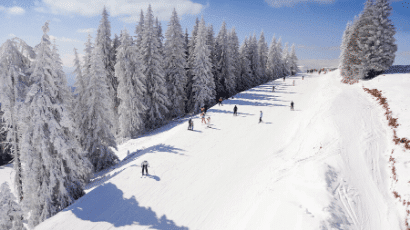 Downhill Skiing
Shawnee Peak's 40 trails are a 10 minute drive from The White Gables Inn
Cranmore Mountain's 200+ skiable acres are a 15 minute drive from The White Gables Inn
Cross Country Skiing
Check out Trails.com for ungroomed nordic trails near Fryeburg
Bear Notch Ski Touring Center has 65km of nordic trails and is a 25 minute drive.
Jackson, New Hampshire has 148km of nordic trails maintained by the Jackson Ski Touring Foundation, and is a 35 minute drive.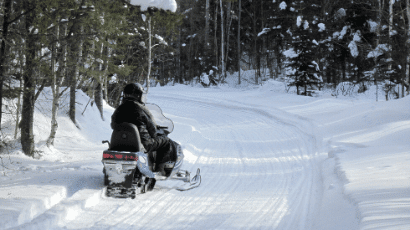 The White Mountains have over 1000 miles of snowmobile trails for you to explore. Our back acreage on the intervale connects to the trail system.
Fryeburg Area Snowmobile Association based in Fryeburg grooms the local snowmobile trails. The local trails connect with Maine's Interstate Trail System. Fryeburg Area Snowmobile Association's Facebook Page has up-to-date information on the current state of Maine's trails. The White Gables Inn's back acreage connects with the Fryeburg Area Snowmobile Association Trails and a trail through the Inn's woods allows you to leave right from the Inn.
Fryeburg Snowmobile Rentals, a short walk from the Inn, is happy to provide you with a sled should you need one.


Mike, Steph, and Gwen are revisiting all our favorite places and exploring new ones to provide you with the best local attractions. We will also keep you updated on everything going on at The White Gables Inn.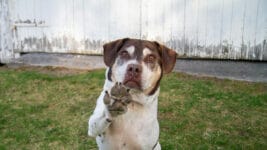 Questions about the White Gables Inn?